South Bend / DXD Racing Clutch 97-99 Porsche Boxster 2.5L Stage 1 HD C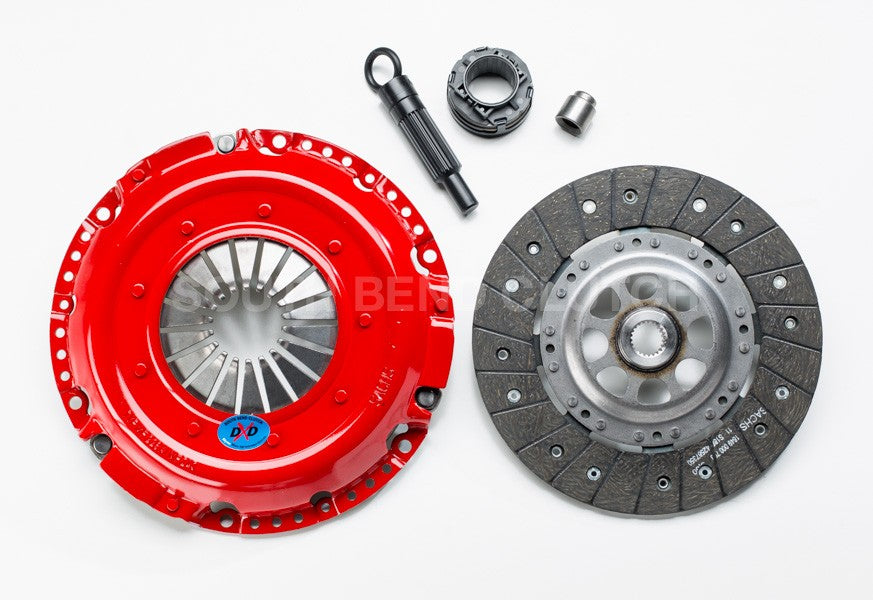 South Bend / DXD Racing Clutch 97-99 Porsche Boxster 2.5L Stage 1 HD Clutch Kit
Description:
PERFORMANCE KITS
KIT DESCRIPTIONS
STAGE 1:
Heavy duty version of the stock O. E. clutch. The Pressure Plate has an increase clamp load for extended life. The disc is dual dampened for smooth engagement and increased transmission life. Premium friction material ensures rapid heat dissipation increasing the life of the clutch.
Recommended for spirited and daily driving.

STAGE 2 DAILY:
Engineered for HP modifications. This Heavy Duty Pressure Plate has an increased clamp load with little or no increase in pedal pressure. The Organic disc material has a high metal content that increases the co-efficient of friction by two times over a stock lining and increases rotational strength up to a 12,000 RPM burst point. This clutch system maintains a stock feel while offering strength and durability.
Recommended usage is daily, street and moderate race.
 
STAGE 2 ENDURANCE:
An SFI approved single mass flywheel is recommended for this application to get optimal performance. This clutch system is designed for the racing climate. The pressure plate is precision balance for vibration free operation at high RPM. The pressure plate fulcrum is altered for a positive disengagement and a quick shift. The disc is engineered with a Dual Damped design to provide accurate control when accelerating through corners. The friction material is a hybrid using a full face Feramic (Sintered Iron) lining on the flywheel side and a high metal content Organic lining on the pressure plate side. Engagement is positive yet buffered due to the high graphite content unique to Feramic facings.

Recommended uses are daily and street with an emphasis on Rally and Endurance racing.

STAGE 2 DRAG:
Drag racing requires a Single Mass SFI approved Flywheel to be included with each kit when the original design is Dual Mass. This system features a Heavy Duty Pressure Plate modified for a puck style disc with no cushion between the linings to keep the clutch pedal travel short and quick. The puck design disc reduces rotational mass and total drive surface area while increasing pounds per square inch on the surface of the friction material. This combination minimizes inertia, accelerating the transfer of torque from the engine to the wheels. The friction material used for this race application is Graphite Impregnated Ceramic. This compound exceeded all other friction materials when testing for durability, reduced chatter, heat transfer and torque capacity.
Recommended uses are drag racing, drifting and limited street.

STAGE 3 DAILY:
Recommended for single mass flywheel (SMF) when original design is DMF. This clutch package is designed for high HP vehicles desiring a start performance similar to O.E. The pressure plate is Race Engineered (SS) and SFI approved with significant load increase over stage 1,2 pressure plates (+600-800 lbs.). Expect a pedal effort increase of 20%-25%. Discs are assembled with heat-treated wear resistant hubs; drive plates and springs for high load transfer and dependable operation. The sprung centers on the disc in conjunction with the marcel fin between the linings create a dual dampening effect that simulates O.E. start performance. A Performance Organic friction material with a high metal content increases torque and RPM capability and maintains low operating temperatures which reduces wear and glazing.
Recommended usages are daily, spirited street and occasional track.
 
STAGE 3 ENDURANCE:
Recommended for single mass flywheel (SMF) when original design is DMF to achieve optimal performance. This kit uses the same Race Engineered SFI approved pressure plate as stage 3 daily package. The disc is designed for the special needs of a vehicle with circuit racing in mind. Kevlar friction material is used for its unique static to dynamic ratios of friction co-efficients at high energy levels. This translates to a perfect transition from one gear to the next. Discs are assembled with only performance components and equipped with torsion springs functioning as a damper between engine and gearbox.
Recommend usages are Rally, endurance race, clubsport, autocross, street and daily.

STAGE 3 DRAG:
Drag racing requires a Single Mass Steel Flywheel to be included with each kit when the original design is Dual Mass Flywheel. This clutch package is built to handle heavily modified cars and designed to function according to the specific needs of the 1/4 and 1/8 mile track. The pressure plate for this kit is SFI approved Race Cover engineered to disengage with less pedal travel shortening the shift time. Discs are a puck design, which reduces rotational mass and are assembled with all high carbon component pieces for maximum strength. The friction material used is Graphite impregnated Ceramic perfectly suited for drag racing because of its maximum friction co-efficient, rapid heat dissipation and abrupt engagement characteristics.
Recommended uses are drag, pulling, drifting.
 
STAGE 4 EXTREME:
This is a "build to order" clutch kit intended for cars with HP modifications exceeding the stage 3 parameters. The Race Engineered pressure plate is modified for maximum plate load. The discs are puck design with sprung and un-sprung options. Friction material options include Sintered Iron and Graphite Impregnated Ceramic. Engagement characteristics can be abrupt. Hydraulic systems may need enhancing for proper clutch separation. Single mass steel SFI approved flywheels are required for safety. Torque ratings are calculated at time of ordering.
 
RACE ENGINEERED PRESSURE PLATES (SS) USED IN STAGE 3 AND 4 CLUTCH KITS:
These performance clutches deliver more transmittable torque and stability, longer life and superior thermal resistance. They also deliver noticeably better dynamics through higher clamp load when driving the vehicle to its limits.

FLYWHEEL FEATURES
Flywheels manufactured by SBC are made from low carbon, hot rolled steel that is highly resistant to warping and perfectly suited for the friction materials mated to them. Single mount CNC machining guarantees precise tolerances and perfect balance exceeding O.E. specifications. Extensive field testing has been done to determine the proper weight for each specific vehicle and to ensure smooth operation, safety and durability under extreme operating conditions.


WARRANTY INFORMATION
South Bend Clutch, Inc. warrants that our clutches are free from defects in workmanship and material under normal use and service. The obligation of South Bend Clutch, Inc,. under the warranty is limited to repair or replacement of the defective product, which fails within 12 months or 12,000 miles. We will not be liable for losses that might be claimed as a result of the failure of any part, nor shall we be liable for damages or injury to any persons or property resulting from the misuses or improper installation of any part subject to this warranty.  Click here for Warranty Registration form.
Warranty Registration form is NOT for submitting a warranty claim when something happens to your clutch. It must be on file with us within 30 days of purchase. If you have a warranty claim, call the shop directly and talk with our technical dept.

South Bend Clutch, Inc. reserves the right to examine all parts returned for warranty claim to determine whether or not any such part has failed because of a defect in material or workmanship. Our obligation under this warranty shall be limited to repairing, replacing, or crediting, at our discretion, any part found to be defective.

The Limited Warranty will not be valid under the following express conditions:
It is NOT registered within thirty (30) days of purchase.

When purchased by retail customer for less than our MAP price (see Pricing Policy below)
When not installed by a certified mechanic
When flywheel was not replaced with new or resurfaced to specification
Clutches which have been altered, improperly installed, or damaged by accident, negligence or misuse
When transmission fails or has excessive wear
WARRANTY IS NON-TRANSFERABLE
Products used for High Performance and/or Racing purposes which they were not originally engineered for, will not be covered.
South Bend / DXD Racing Clutch 97-99 Porsche Boxster 2.5L Stg 1 HD Clutch Kit
Special order product(s), please allow an additional 10-15 days delivery. For more detailed information please contact HKP Tuning
This fits:
| Year | Make | Model | Submodel |
| --- | --- | --- | --- |
| 1997-1999 | Porsche | Boxster | Base |
| 2004-2008 | Porsche | Boxster | Base |
| 2000-2003 | Porsche | Boxster | Roadster |
| 2007-2008 | Porsche | Cayman | Base |
Other fine products