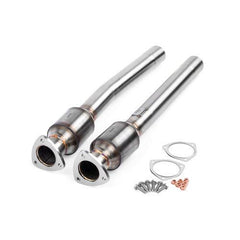 The midpipe is as the name already gives away, the middle section of the muffler and the catalytic converter.  It is either a single or dual exhaust pipe that is typically designed to improve torque output, increase horsepower and exhaust notes.  
The two most common types of a midpipe are an H-Pipe and an X-Pipe. The H type pipe simply makes a shape of an H and connects two exhaust pipes with a help of smaller pipe in between them. The X-pipe differentiates itself from being shaped in the form of and X where both exhaust streams merge momentarily before being separated again. 
The H Pipes will result in generally a more deeper sound and additionally generate extra torque in the lower RPM range, while X-Pipes will have a higher exhaust note and generate more power in the high RPM range.   
Some vehicles only support a Y-pipe, which isn't favorable to achieve maximum horsepower, so converting to a dual set up is ideal. The increased airflow from upgrading to an X or H setup gives you much more room to accommodate increases in horsepower and torque, relieving excessive back-pressure.