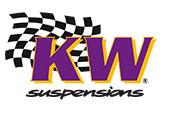 For many years, the KW automotive GmbH has been the epitome for premium products in car tuning and automobile refinement. KW offers its customers the largest suspension program world-wide. The entire assortment – from springs over sports suspensions to coilover suspensions "inox-line" in three damping versions – such a variety of products is unsurpassed on the market. Moreover, KW automotive GmbH develops racing solutions for national and international motor sports. The racing program of KW competition is successfully used by numerous racing teams on many race tracks around the world.
KW automotive North America Inc. is also an important partner for a large number of renowned companies in the automobile industry. An enormous number of tuners and manufacturers of large and small scale series that rely on the suspension competence of KW automotive North America Inc.
The company was founded in 1995 and at the beginning it only existed with three employees and had an operating area of 1600 sq.ft. Today, KW automotive GmbH is represented all over the world and has approx. 200 employees in five locations. After numerous expansions at the company headquarters in Fichtenberg, Germany the overall production and floor space now stretches over 247,500 sq.ft. The continually growing delivery program includes many thousands of applications.