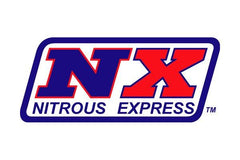 We started NX in 1996 because we knew we could offer nitrous systems that outperformed anything on the market right out of the box. Nitrous Express had an advantage; we got to start with a blank sheet of paper.  We were able to manufacture our components with all the hot rod modifications built in. This allowed our customers to achieve better results right out of the box than other racers who were paying big money to modify our competitors' parts. It was like a breath of fresh air! We spent the next 22 years perfecting our nitrous products while expanding our product line to include some really awesome NX nitrous and water methanol products.
Snow Performance has manufactured the highest quality Water Methanol injection systems since 2002. Nitrous Express and Snow Performance had been great friends for many years and both companies had private labeled parts back and forth to ensure their product offerings were the most complete and best quality available. To further strengthen both brands, it just made sense to combine everything into one team. To that end, Nitrous Express acquired Snow Performance on November 14th 2018.
Since then, the NX and Snow Performance team has worked constantly to offer the best customer experience possible. The NX and Snow Performance team is extremely honored to offer our customers the highest quality and best performing nitrous and water methanol products available.