Performance Intercoolers / Charge Air Coolers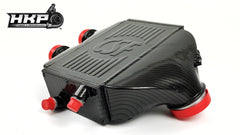 An Intercooler, or "charge-air cooler", is an air-to-air or air-to-liquid heat exchange device used commonly on turbocharged and supercharged engines.
The Intercooler cools the air compressed by the turbo or supercharger reducing the temperature  and increases the density of the air supplied to the engine allowing you and or your tuner to a run a more aggressive tune and hold power over longer period of time . A tune however is not mandatory if you install a performance upgraded Intercooler.