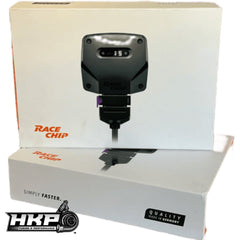 A piggyback tune is similar to a flash tune in that it plugs directly into the ECU (also known as the DME). It does not re-write the factory ECU tune. Instead it piggyback tunes alter certain signals and sensors to accomplish the tunes goal. In essence, the factory DME tune remains unchanged, and the piggyback tune is "tricking" the DME into making more power. It may also trick the DME into running more aggressive ignition timing, increasing boost, etc. 
There is no right or wrong answer if a piggyback tuning box or a DME flash tune is the right choice for you. Both have their pros and cons and your vehicles set up and goals with it may determine which route to take. 
If you have difficulties making the decision, please fee free to email us at shop@hkptuning.com for a consultation. 
VEHICLE MANUFACTURER WARRANTY AND EMISSIONS DISCLAIMER
All Item sold by HKP Tuning & Performance are for Off Road use only. HKP Tuning & Performance makes no guarantees to the legality of any parts used for "on highway vehicles" and accepts no responsibility for compliance with the vehicle's factory warranty. PRIOR TO ORDER FULLFILLMENT, EVERY CUSTOMER WILL RECEIVE A SEPEPERATE VEHCILE WAIVER THAT MUST, SIGNED AND RETURNED. NO EXCEPTIONS WILL BE MADE.