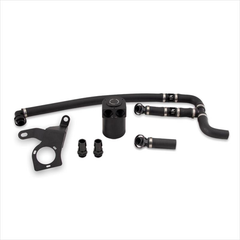 Oil Catch Cans are designed to increase your engine's efficiency by reducing "blowby"  that otherwise would be sent into the engine's intake.  
Essentially the oil catch can captures the excess oil that passes through the piston seals into the crankcase of your car. While the oil is lubricating the pistons, the process creates oily "blowby" The oil catch can stops these evaporated oil gases from going back into the air intake of your engine and collects those in the can. 
Why is this important you might ask?! Preventing the "blowby" to enter the air intake keeps your engine in a better condition. Especially over time! The air remains fresh, with the oil catch can capturing the excessive oil. You reduce buildup of deposits that would otherwise reduce the efficiency of your engine. Carbon deposits cause disruptive shaking during idling and ignition failures. 
If you ask us at HKP Tuning, any driver of an high performance or highly modified vehicle should look at installing a oil catch can as for these cars, optimal performance is essential at all times.