Water Methanol / Alcohol Injection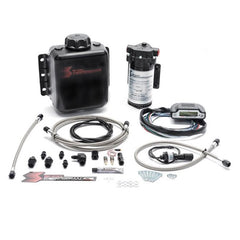 Water Methanol or 100% Alcohol Injection Systems are most commonly referred to as simply "Meth" Injection. 
The basis of the system is to inject methanol via a nozzle into the intake manifold. There are two primary advantages on why you want run a system like that on your vehicle.  First it lowers significantly your air charge temperatures. Secondly, methanol injection lowers the risk of detonation. Both of these advantages in combination will allow you or your tuner to safely increase timing and boost on your engine resulting in additional Horsepower as the high-octane methanol boosts power.
Here a few incredible important key notes to take away on the system:
Your engine creates more power
Cooling your intake temperatures down allow you to increase timing and/or boost 
Water/Methanol or Alcohol system fluid replenishment is less a expensive high-octane alternative to race fuel such as 95/98/100+ Oct
The atomized water will effectively steam clean your engines valves, valve seats and piston tops 
Low Cost of the system compared to other upgrades