Recaro Sportster CS Nurburgring Edition Driver Seat - Black/Red Leather/Black Leather
Description:
LIMITED TO 999 SEATS 
RECARO Sportster CS
NÜRBURGRING LIMITED EDITION.
Uncompromising performance meets perfect design
When it comes to performance and design, our exclusive special edition of the RECARO Sportster CS – strictly limited to 999 units – is unequaled anywhere in the world. A unique combination of thoroughbred racing shell and comfortable sports seat, it dominates seriously high-performance vehicles like no other. The Nürburgring Edition is built for a peerlessly dynamic ride on both road and track.

Feature highlights: Exclusive Nürburgring and RECARO branding, edition tag with custom number, premium-quality black leather seat upholstery, handmade decorative stitching, accent stripes on back shell, pronounced lateral support in backrest and specially formed and optimized shoulder support.

(Image includes options.)
WORLD PREMIERE
AT THE NÜRBURGRING
There was never really any question about where we would introduce our brand-new Nürburgring Limited Edition to motorsport fans from around the world. It had to be at the 24 Hours on the Nürburgring from June 20 to 23. All the action took place in the Ring Boulevard, where our RECARO Sportster CS Nürburgring Edition featured prominently at the stand and in tuning legend Sidney Hoffmann's show car.

A total of 120 registered participants got behind the wheel of a virtual Porsche 997 GT3 Cup in our high-end simulator to test their skills on the original route of the 24-hour race. The winner of the RECARO Performance Challenge could look forward to being driven around the Nordschleife by a professional driver.
Nürburgring Limited Edition
FACTS AND FIGURES
Overview of features
Fore-and-aft adjustment
Backrest adjustment
Seat heating
Leather upholstery
Decorative seanming
Nürburgring branding (stitched logo)
RECARO branding (stitched logo)
Sporty accent stripes on back shell
Exclusive edition badge (with custom number xxx of 999)
RECARO needle
Pronounced lateral support in backrest
Specially formed and optimized shoulder support
Pronounced lateral support in seat cushion
Riding performance: dynamic driving
Firm upholstery
Dimensions
Key for comfort dimensions:

A: Seat height
B: Seat width
C: Seat depth

Dimensions in mm, all dimensions ±10 mm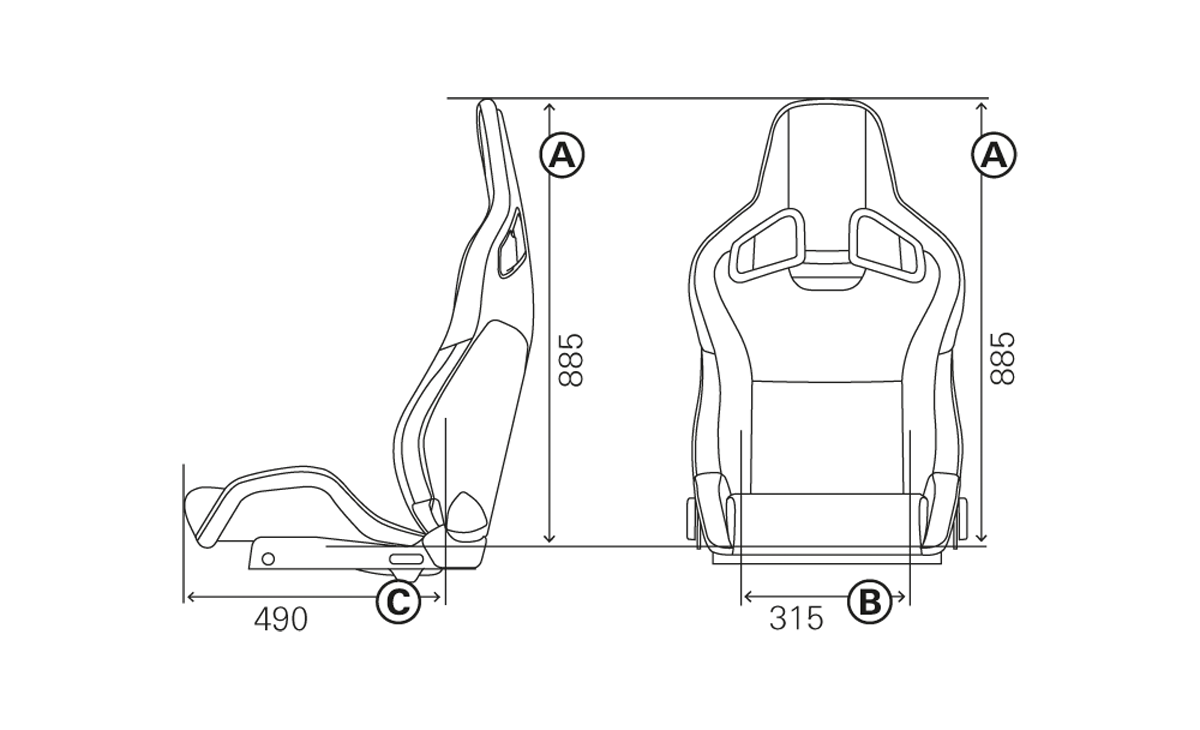 Ideal Body support:

Recaro performance seats like the Sportster CS make a crucial contribution to lap times. Their snug, supportive seat structure and side bolsters for excellent shoulder and torso support stabilize the body against lateral forces and cocoon it like a second skin. With a Recaro seat, where man meets machine, the road becomes your playground. Frame, tires, brakes and engine all give you instant feedback on road surface and condition. The Recaro Sportster CS – is an uncompromising combination of sports seat and thoroughbred racing shell, these seats provide superior Recaro body support – especially in compensating lateral and centrifugal forces, vibrations, or deceleration impacts. Stand-out features of the Recaro Sportster CS, including the Nürburgring Edition, include effective lateral support in the backrest, specially formed bolsters for optimum shoulder support, specific lateral support in the seat cushion, and firm upholstery for controlled cornering and direct feedback from the road.

The better your sitting position, the sharper your reactions and the more fully you have the vehicle under control: Recaro builds seats that support you perfectly so that you can drive with greater concentration and safety. Our trademark body-hugging design combines a sturdy metal base with an ultra-thin reinforced polymer backrest and optional side-airbag.

Superb comfort and Ergonomics:

The super-lightweight structure of the Recaro Sportster CS embodies our world-famous ergonomics – true to Recaro design maxim: "Form follows Human". With firm upholstery, pronounced side bolsters and finely-tuned adjustment options, the anatomicallyshaped backrest and seat contours cocoon the body ergonomically like a second skin. Since the backrest contours are a perfect reflection of the natural double-S of the human spine, this part of the back is well-supported without the need ofor an adjustable lumbar support feature. The new "Nürburgring-Edition" comes with fore-aft adjustment and a highly adjustable reclinable backrest to adapt it to individual comfort requirements.

Crafted to perfection down to the tiniest detail:

This Recaro Sportster CS special edition is crafted to perfection down to the tiniest detail and using the finest materials. Available as a performance seat for driver or passenger, it combines an exclusively designed slim backrest with innovative materials – from premium-quality black leather seat upholstery to an integrated headrest complete with stitched Recaro and Nürburgring logos. And Recaro has underlined its dynamic image in red, with decorative stitching as well as sporty accent stripes on the back shell.

A Recaro Sportster CS is like a tailor-made suit. It fits perfectly, effortlessly underlining the car's and driver's personality by combining sportiness, the ultimate in functionality, premium quality and individual style. Only products made with passion and skill make you feel this special. Our seats are crafted to perfection using the finest materials and consistent down to the tiniest detail. That's why they excel in sporty, dynamic driving. more details on 
Recaro Sportster CS Nurburgring Edition Driver Seat - Black/Red Leather/Black Leather
Special order product(s), please allow an additional 8-12 weeks delivery. For more detailed information please contact HKP Tuning.
Other fine products