KW HLS2 Lamorghini Gallardo, complete kit incl. KW V3 coilovers
Description:
KW HLS
: Hydraulic Lift System
HLS is available in two configurations, HLS 2 which is fitted on the front axles only or HLS 4 which can be attached to the front and rear axles and allows lifting of the entire vehicle. The hydraulic cylinder unit is located on the coilover body between the spring perch and spring. This allows for a mechanical advantage as there is no compression of the extended cylinder unit resulting in no unwanted additional suspension movement while driving.
Allows cars with low ground clearance to clear obstacles more easily.
Available as a complete kit including coilovers or as a conversion for existing coilover kit owners.
Can be activated from inside the vehicle via a LED position control switch or by optional remote, eliminating any need to interior wiring.
Can be activated while driving (up to 50mph)
* Fast lifting – Maximum lift in 5 seconds with HLS 2
Due to the low center of gravity many super cars have less ground clearance. In order to be able to drive over speed bumps or steep ramps in parking garages without any problems, we have developed the KW Hydraulic Lift System. At the touch of a button the HLS system lifts vehicles by up to 45 millimeters allowing obstacles to be negotiated without a problem. Compatible with our KW coilover suspension or with the original suspension depending on vehicle type and application.

KW HLS Lift Kit – Ride height adjustability with more ground clearance at the push of a button
With the KW HLS lift system you can lift your sports car or lowered vehicle to safely negotiate obstacles such as speed bumps, railroad crossings, road construction, garage approaches and underground car parks. Depending on the version of the HLS lift system your vehicle can be hydraulically lifted either at the front axle or at both axles by up to 45 mm. This prevents accidental damage to your aero components, underbody protection or even oil sump. The lift system is available either as a vehicle-specific solution with or without a KW coilover kit, depending on the type of car and the model. If you cannot find your vehicle in our KW HLS product range, our engineers have also developed a universal lift system.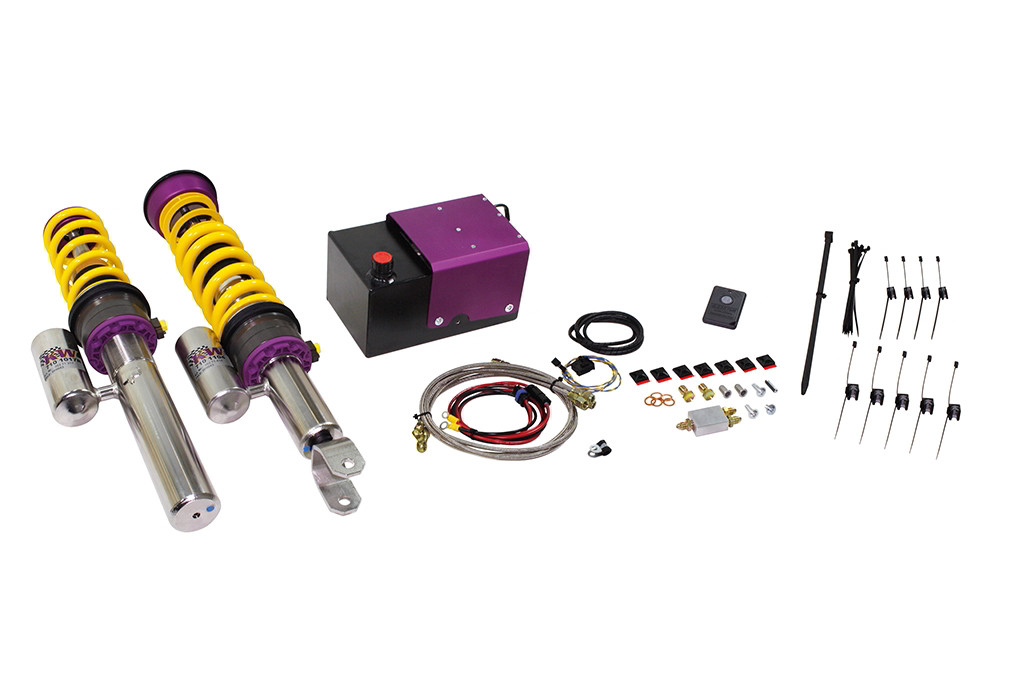 KW HLS systems are available in two different variations. The HLS 2 lift system is only installed on the front axle. The HLS 4 system allows you to lift the entire vehicle. A hydraulic cylinder is installed between spring perch and springs on each of the KW struts. The great advantage of the hydraulic system is that driving dynamics are not affected. The delivery content for all HLS systems include a control unit, which is connected to the vehicles on-board electronics. The vehicle will be automatically lowered at a certain speed to the original level of the KW coilover kit or your factory suspension.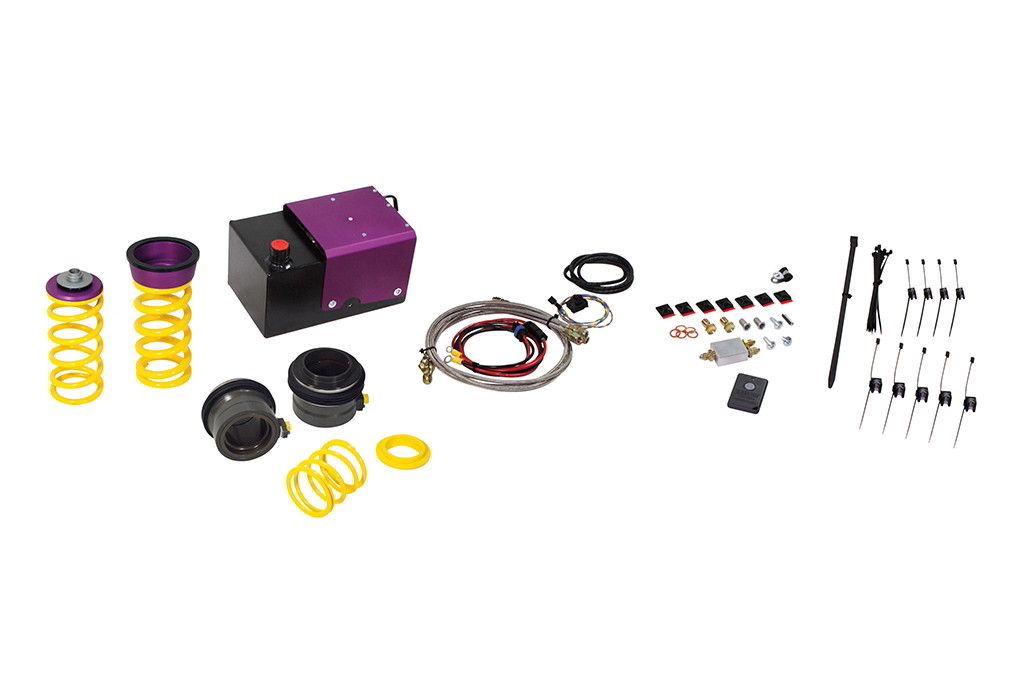 For a wide range of super cars and performance vehicles KW HLS is available as an application-specific solution. Included in the delivery is all the necessary parts for installation including the hydraulic lines & hydraulic pump adapted to your vehicle. All of the components will fit perfectly in your car. If you want to combine the HLS with your factory suspension or upgrade to our KW coilovers, the choice is yours. Alpina, BMW M, Manthey, Mercedes-Benz AMG, Novitec Rosso and many well-known international automotive companies place their trust in KW HLS systems and coilover kits.
KW HLS Universal – more ground clearance at the push of a button for lowered cars.
The KW HLS Universal conversion kit can be installed in combination with a KW coilover kit. The hydraulic unit which lifts or lowers the vehicle is mounted between spring perch and springs on each of the KW struts. The required installation space for the cylinder unit is 65 mm.This is a universal retrofit system that may be adapted to existing KW coilover solutions, additional customization may be necessary.
Activated from inside the vehicle via an LED control button
Can be activated while driving (up to 80 km/h)
Fast lifting within 4-5 seconds (HLS 2)
Corrosion resistant (coated cylinder components made of aluminum)
Continuous Ride Height Adjustment
With KW HLS system that includes coilovers you can achieve maximum lowering within an approved lowering range that ensures a proper functioning suspension with adequate travel after your car is lowered. Even after years of use you can easily adjust the ride height thanks to the dirt resistant trapezoid thread and composite adjustment collar.
As with all KW coilovers our engineers develop vehicle specific damper and spring specifications which undergo comprehensive testing on the Nürburgring Nordschleife and in our KW 7-post Driving Dynamic Test Center. With a KW HLS coilover kit the driving experience is more dynamic and direct.
You are not buying a mass produced, generic coilover kit, a KW coilover has been developed specifically for your particular vehicle. As a manufacturer, KW uses only its own resources, high quality components and the damper technology that has all developed in-house. With the KW coilovers, rolling motion of the body will be reduced during compression giving you the benefit of more direct handling and confidence while driving.
Our experience means your driving pleasure
For over 20 years, KW automotive has been the market leader and driving innovation as a manufacturer of individual suspension solutions for the road and in all types of motorsports. No matter where in the world, gearheads, automobile manufacturers and reputable tuners rely on our KW coilovers "Made in Germany".
Every KW coilover kit undergoes extensive stress testing before production and is developed and manufactured exclusively in our company headquarters in Fichtenberg, a small in town in Germany, to meet the high standards of our KW quality management. For us as a German manufacturer, it goes without saying that our KW coilover kits will exceed the original equipment manufacturer quality, and offer useful and innovative solutions. With an application list comprising more than 4,600 options KW guarantees an outstanding selection.
This fits:
| Year | Make | Model | Submodel |
| --- | --- | --- | --- |
| 2004 | Lamborghini | Gallardo | Base |
| 2005 | Lamborghini | Gallardo | Base |
| 2006,2008 | Lamborghini | Gallardo | Base |
| 2006-2009 | Lamborghini | Gallardo | Base |
| 2006 | Lamborghini | Gallardo | SE |
| 2006-2009 | Lamborghini | Gallardo | Spyder |
| 2007,2009 | Lamborghini | Gallardo | Spyder |
| 2007-2008 | Lamborghini | Gallardo | Superleggera |
Other fine products