Griots Garage Leather 3-in-1 Spray - 22oz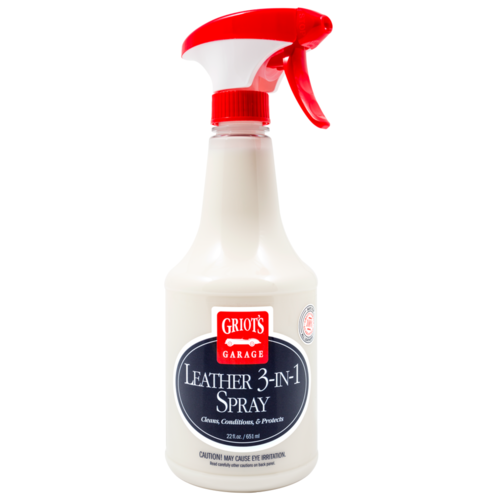 Griots Garage Leather 3-in-1 Spray - 22oz
Description:
We've taken our popular Leather 3-in-1 lotion and formulated it as a convenient spray. Enjoy clean, conditioned, and protected leather.
Spray formula of a hard-working customer favorite
Cleans, conditions, and protects in one quick, easy step
Helps resist staining, protects from harmful UV rays
Works great on all leathers
Leather 3-in-1 Spray is a superior maintenance product that cleans, conditions, and protects newer leather in one quick, easy step. Its rich conditioners penetrate leather grain to moisturize, soften, and keep leather looking, feeling, and smelling factory fresh. Advanced polymer technology creates a water- and stain-resistant barrier to protect against UV damage, premature aging, and cracking. It can be applied on a monthly basis if needed and used as a maintenance product for older, previously restored leather. Quickly and easily clean and beautify all auto, boat, RV, home, and personal leather items with this unique, premium formula.
CA residents - Cleaning Product Right to Know Act:
Other fine products