Griots Garage Best of Show Wax - 16oz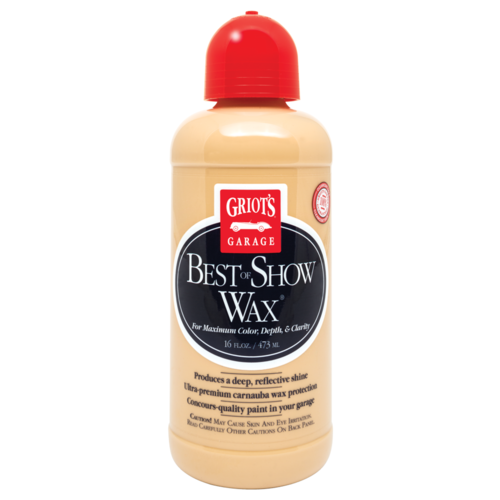 Griots Garage Best of Show Wax - 16oz
Description:
This wax generates incredible color, depth, and clarity. Three factors any concours judge looks for when he's scrutinizing paint.
Heavy carnauba content delivers clarity that looks like still-wet paint
Creates a concours-quality finish with just one application
Revised formula, wax residue now wipes off quickly in one effortless pass
Simply the best wax you can buy
Since 1994, our Best of Show Wax has delivered the very best color, depth, and clarity to your paint... achieve stunning results on and off the concours lawn. Numerous Best of Show awards have been won at the world's most prestigious car shows and thousands of letters have been written going on and on about how great it was. But, as you know, striving for perfection is part of our DNA here at Griot's Garage... Even though Best of Show was insanely capable in so many areas, some of your feedback over the years indicated that it was hard to remove. You spoke, I listened, and we went back to the drawing board and created a much-improved product that even the most die-hard Best of Show fans will appreciate! With the innovative technology of the revised formula, wax residue now wipes off quickly in one effortless pass, even after letting it set-up on your paint overnight. The level of protection is improved too, giving you lasting clarity that will impress neighbors and show judges alike! Our unique blend of oils and the high carnauba content will make your paint look flawless. And, as an added benefit, it can be applied to warm or cool surfaces without compromising the stunning finish it creates. So, it's time to update your car care arsenal today with the finest liquid carnauba wax available. After all, we don't call it "Best of Show" for nothing.
Read/download which pad and liquid car care combination is right for your paint's condition (Adobe PDF format).
CA residents - Cleaning Product Right to Know Act:
Other fine products