AMS Performance 2006-2009 BMW 135i (E82/E88) N54 Intercooler Kit
AMS Performance 2006-2009 BMW 135i (E82/E88) N54 Intercooler Kit
SKU:
ds_GHQH_AMS.06.09.0101-1
Description:
The AMS BMW 135i Front Mount Intercooler is the best performing direct bolt on you can buy. Simply by bolting on this intercooler on a stock car you can expect over 10 wheel horsepower gains. Cars running increased boost due to a tune have seen 40 plus wheel horsepower near redline! This intercooler has over 49% more internal flow area than its stock counterpart, works with the stock piping and only requires small trimming to the plastic bumper support.
This AMS Intercooler features cast aluminum end tanks for added durability with smoother features and geometry. Designed by their engineering team using Solidworks (3D CAD software) these A356 T6 Alloy Aluminum end tanks have improved flow over sheet metal end tanks and include gusseted brackets to prevent cracking or failure. Their end tanks don't end there. They also incorporate an industry first 3" inlet and exit port. They go beyond their competition to ensure quality. Each AMS Intercooler is hand TIG welded in a jig for a perfect fit and pressure tested to 50 psi to ensure maximum performance.


Exclusive Features
---
Over 49% more internal flow area than stock

Smooth flowing cast end tanks allow for better airflow over the competitions sheet metal tanks

Best performing intercooler on the market and requires less bumper support trimming than the competition.

Industry first 3" inlet and outlet end tank ports

Custom molded silicone couplers to optimize airflow volume and velocity.

Will bolt up to your stock piping or most aftermarket pipe kits that are designed for the stock intercooler.

Bar and plate style core, the best performing on the market

All AMS intercoolers are pressure tested after assembly to 50 psi
Kit Includes
---
Intercooler
Silicone couplers designed to be used with stock and most aftermarket piping.
Hose clamps
Specifications
---
Intercooler core dimension: 6″ tall, 20″ wide and 6″ thick
Good for up to 550whp
Comes with the Black "AMS" Painted Logo
Slight trimming of plastic bumper support required
Weighs 17.6 lbs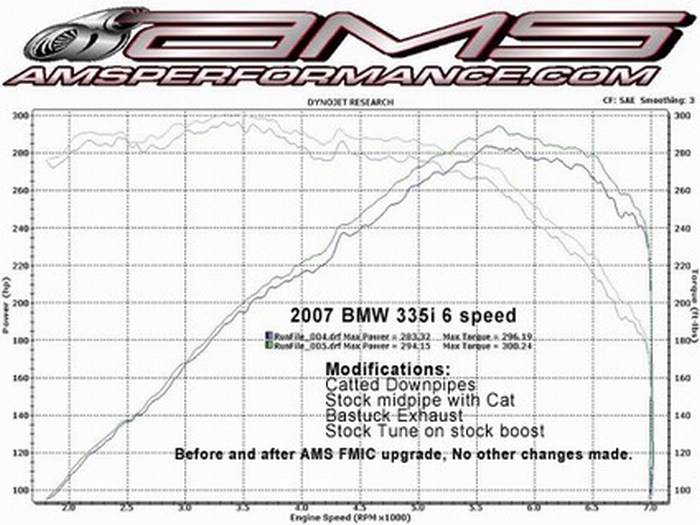 Applications
---
BMW 135i (E82/E88) models

Fits all USDM, and European Models
Special order product(s), please allow an additional 10-15 days delivery. For more detailed information please contact HKP Tuning
Other fine products